This is exactly what happens in the new version of the Vivaldi browser for Android. A really nice browser, now even better. In the new version, you can set a period after which the remaining open tabs are automatically closed, freeing up memory to the benefit of your device's performance.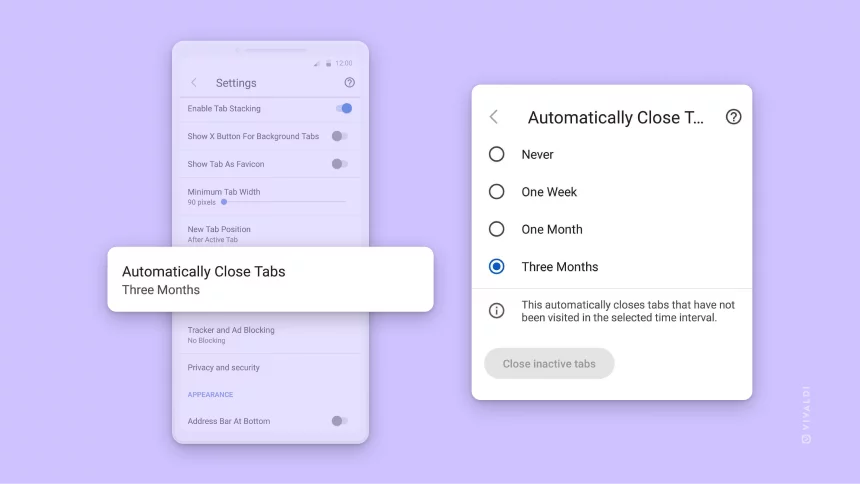 The team that build Vivaldi seems to be one of the few who seriously believe in developing a browser for Android devices, a browser which is not look simply as "small copy" of the computer browser. I like it for this very reason, because they believe in it. A serious competitor of Vivaldi, to me, is only Samsung browser, but this one – at least to now – has no counterpart in the computer world, so it's not really universal as Vivaldi is.
Coming back to Vivaldi, the idea of the tabs that "self-close" after a given time (if nobody looks at them, of course) seems to me as a little touch of genius to avoid the crowds of a huge number of tabs left open that distinguish – for example – Chrome on mobile after some time of daily usage (you know, every link you click from WhatsApp or elsewhere opens yet another tab, you look at it then go to do something else and obviously you forget to close the tab).
Apart from this nice feature, Vivaldi is a great browser around which a rather active community has developed. The commitment of the team, in fact, is totally commendable, because they does not merely focus on creating software but precisely on developing a living environment around it, in which the sense of community appears to be a factor by no means secondary.
It has all the advantages of the classic (but google-centric) Chrome in terms of universality of approach (frankly speaking, no site can nowadays afford not to be welcomed by Chrome) and the breadth of the park of extensions that can be installed. Yes, you can have all of this without sending your browsing history to Google (or anyone else). What's more, it has a number of terrific features not present in Chrome: in recent times, a full-featured email client, a feed reader, a calendar and task manager have been added to an already huge list.
The icing on the cake, Vivaldi comes out of the box with the possibility of enabling blocking of tracers or even that of advertisements, with predefined settings that can be also refined site by site.
It exists for Windows, MacOS and Android. The only flaw is that there is no iOS version, at least for now (you may think, another reason not to be on iOS, but it depends completely to your tastes).
Ah, and it has a terrific theme park.
Definitely, these are times when diversification can do well. Expanding the active players on the Internet and defending diversity is all the more important. Even small gestures, such as trying a new browser, can help us feel like real protagonists in cyberspace, and not just consumers.
As always, it's about of passively follow the flow. Or to decide.